Let US keep YOUR pool water crystal clear!  
Call us today at 561-318-6750 or click here for free service estimate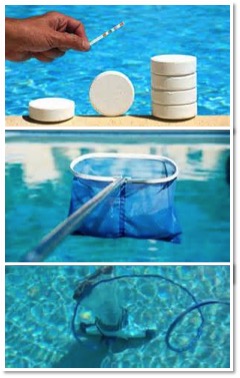 Standard pool cleaning service is performed weekly on a scheduled basis. As professionals, we will perform all duties at your pool quickly and thoroughly. Our technician will test your pool/spa water, check for growth of green algae, and add the proper chemicals as needed to ensure your pool remains fully chlorinated and balanced. We use only the finest quality chemicals, including blended-liquid chlorine or chlorine tablets as well as other chemicals to maintain the proper chemical balance to keep your pool water crystal clear. Skimming, brushing, and vacuuming are provided as necessary utilizing a Hammerhead commercial grade pool vacuum.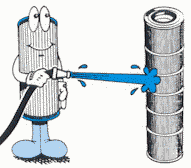 Our technician will inspect your pool equipment to ensure it is working properly and will empty your skimmer basket. Filter preventative maintenance is performed monthly and includes cleaning filter cartridge (or backwashing if sand filter) and inspection of filter cartridge for cleanliness and wear.
Stabilizer treatment is added semi-annually at a slight additional charge. Annual replacement of filter cartridge is highly recommended for proper performance of your filter, and is offered at competitive rates.
With weekly full-service, you will notice remarkable water clarity and with properly balanced chemistry, your pool water will be more comfortable to swim in. And with your time freed up, you and your family can dive right in!
Check us out or if you like our service, leave a review: