Let US keep YOUR pool water crystal clear!  
Call us today at 561-318-6750 or click here for free service estimate
Phosphate Removal Treatments Starting at $125
What are Phosphates?
Phosphates are pollutes that enter into your pool water and are a great food source for algae to feed upon turning your pool water cloudy and green. The problem with phosphates is that they are constantly being introduced into your swimming pool water without you even knowing it. They are found in lawn and garden fertilizers, decaying vegetation, municipal water, suntan lotions and cosmetics on bathers, and even other pool chemicals. 
Organic materials enter into your pool from plant and tree leaves, branches, bugs, dirt and sand, etc
Pollen from trees and plants
Sprinkler run off from lawn or landscaping irrigation systems
Lawn and garden fertilizers
Insufficient pool filtration 
Old, dirty and contaminated filter elements 
Schedule an appointment to get your phosphate reading today and get a phosphate removal treatment before it's too late and your pool turns green.
Contact Crystal Clear Aquatics Pool and Spa Services for a quote today for all your pool repair and equipment installation needs at (561) 318-6750  or info@ccapoolservices.com
Old Non-Working Pool Equipment?
Do you have old or no-longer working pool equipment or thinking about selling your home? Now it's time to replace this equipment and take advantage of all the new efficient equipment for your pool today.
Now is a great time to start thinking about this before it's too late or your potential home buyers requires you to replace your old non-working heaters, pool and spa lights, salt water chlorinators, pool cleaners, etc.
Many of our customers call us after their home is on the market and had their home inspection when it's too late. So why not enjoy your investment today before the new home owner? We have a full range of options from all the major manufacture to meet your repair and installation needs, Hayward, Jandy, Pentair, AquaCal and Autopoilot.
Contact Crystal Clear Aquatics Pool and Spa Services for a free quote today for all your pool repair and equipment installation needs at (561) 318-6750 or info@ccapoolservices.com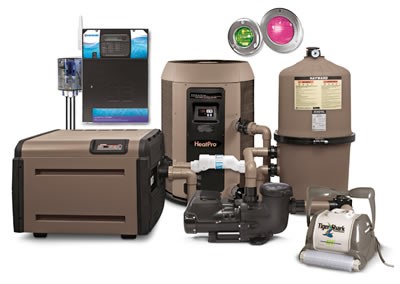 Is It Time to Get Your Pool Tiles and Coping Cleaned?
Coping Clean-ups Starting at $125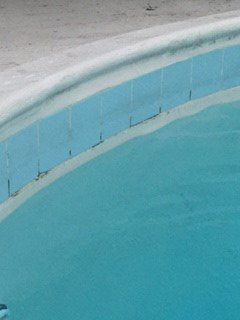 After the long hot and rainy summer does your tiles and coping have black algae? Many pools develop this at the end of the summer season and need a little TLC. Just like having you pool deck and house pressure washed, you pool tiles and coping also need to be cleaned.
Fall is a great time to start thinking about having this service performed. We only use chemicals that will clean and remove most stains from your dirty pool tiles and coping.
Prices start at $ 125.00 for most pool tiles and coping clean-ups.
Algae Pool & Spa Treatment
Preventative Algae Treatment Starting at $ 50.00 for Spas & $ 200.00 for Pools up to 18,000 gallons.
What is the treatment?
It's a unique blend of minerals that continuously and effectively eliminates algae that will improve the look and feel of your pool water that is effective from 4 - 6 months. A booster can be added at an additional charge, if necessary, for longer seasons or extreme conditions like we have here in Florida and is ideal for all chlorine & salt water pools and spas. 
Why do I need a Booster Treatment in 4 - 6 Months?
Minerals are lost through algae and bacteria killing, water splash out, filter cleaning, back washing and heavy rain during the Florida rainy season.  
Who Needs This Treatment?
Any customer that has algae in their pool from time to time and wants to ensure their pool remains algae free for up to 6 months during the prime swimming season here in Florida.
What is included with the treatment?
The initial treatment and a new pool filter cartridge up to a cost of $100.00, additional charges apply for filters costing more than $100.00.
**Pools over 18,000 gallons are subject to an additional charge**
Green to Clean Packages Starting at $ 300.00 Includes New Filter up a cost of $100.00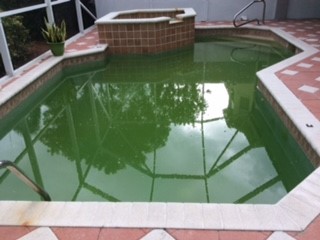 What is included with this service? 
Thoroughly brush walls and pool floor, add chlorine and all necessary chemicals to kill and eliminate algae.  Run filtration system for 24 to 48 hours to clean algae from pool water and clean filter during each visit.  
After completing initial steps, vacuum entire pool area, install new filter cartridge, up to a cost of $100.00, additional charges apply for filter cartridges costing more than $100.00.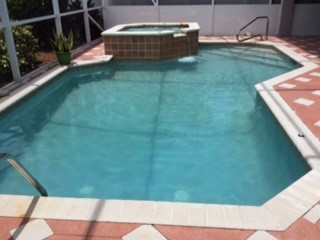 How Long Does It Take?
It depends on the size of the pool and degree of the amount of algae in the pool. On average it takes between 3 - 7 days. Although your pool might look clean in a day or two, you can not swim just yet. You will need to wait until we balance your chemicals and let you know it's safe to start swimming.
* Pools over 15,000 gallons may be subject to an additional cost
Check us out or if you like our service, leave a review: